Driving a prototype vehicle can be a real mixed bag, and it can be hard to tell what the experience will be like ahead of time — but one of the ways you can start to get an idea of what you're in for is by looking at who built it. That's why I'm so excited about getting behind the wheel of the 1992 Carrera 2 Coupe Clubsport prototype, because Porsche isn't generally known for screwing up with this kind of thing.
Porsche's Latest Concept Is The Sexy Electric EV HyperCar Of Our Dreams
Not only is the 964 my favorite generation of air-cooled 911, but this is a lighter and meaner version that was intended to slot in below the not-for-the-U.S. Carrera RS and the RS America. The RS America is essentially a base Carrera 2 with a bunch of stuff taken out to save weight (this is one of the only times where Porsche's lightweight special was cheaper than the standard car). The Carrera RS is basically a 964-cup car with an interior, a few creature comforts and a VIN.
The Coupe Clubsport prototype uses a standard 3.6-liter flat-six and a standard G50 five-speed gearbox. It has a suspension that's been lowered by about an inch from the standard car and special lightweight 17-inch wheels, painted body color. Inside, the back seats get the boot, and in their place, you get carpet, a roll cage and body-colored fixed-back sport seats. Porsche opted to keep air conditioning and a couple of other concessions to comfort, but this isn't a car that was meant to coddle you.
Despite its decidedly loud appearance — Ferrari Yellow (yes, that's the color; the German name is a more reasonable cadmiumgelb or cadmium yellow) body with Ferrari yellow paint and Ferrari yellow seatbacks — and its prototype status, this car is incredibly well-sorted. It feels like it's ready for production, which isn't surprising because it's all production parts just shuffled around. Getting in, I quickly realize that even relative to the standard 964, there's not a lot of room for my 6-foot, 4-inch frame because the sport seat doesn't slide back that far.
Startup of the 1992 Porsche Carrera 2 Coupe Clubsport prototype
Despite feeling like the tall man in the small car from Season 7 Episode 21 of The Simpsons, I make it work. The bucket seat is also fairly narrow, so getting situated takes some wiggling and the acknowledgment that this isn't going to be an especially comfy drive. All the other regular 964 stuff is there, too, so I already began to feel at home.
Turning the key on the left side of the wheel where it belongs (looking at you, 928), sees the 3.6-liter DOHC motor crank for a second before barking off and settling into a pleasant thrumming idle. As in a normal 964 C2, the clutch is heavier than I'd like but not too much of a chore, and the gearbox is already warm, so the shifter slots into gear quite nicely. After a test blip of the throttle just to hear the motor, I set off.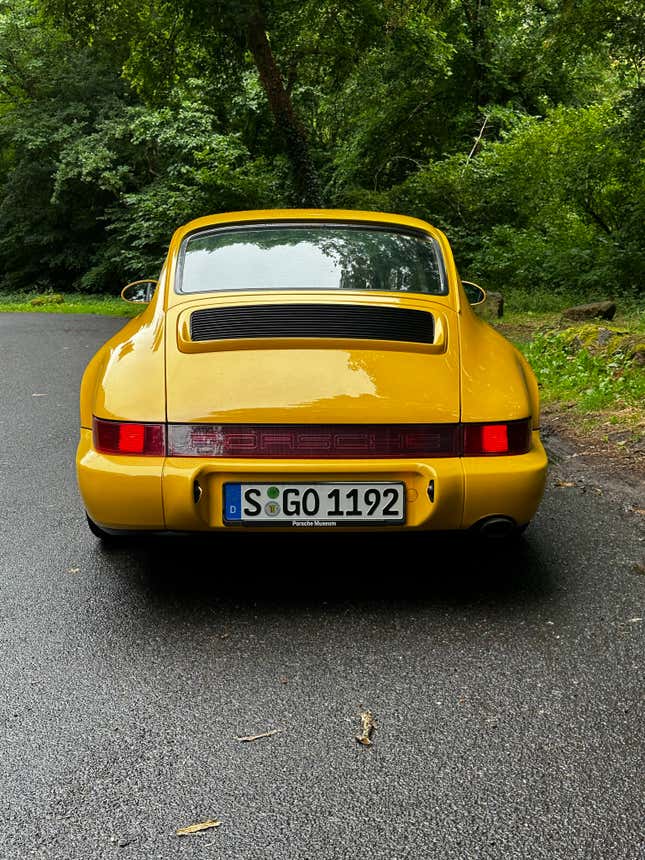 Being mostly a mental teenager, the first thing I do when I hit a straight piece of road is mat the gas, and despite "only" having around 246 hp, the Coupe Clubsport practically jumps ahead and builds speed with the kind of rapidity I'd expect from a much more modern car. This machine is extremely quick and extremely direct, and when people wax on about the purity and involvement of air-cooled 911s, this is the experience that they're trying to describe.
Since we're in the middle of the Black Forest, my straight piece of road doesn't last long, and soon I'm approaching a set of curves on an undivided road. The 964 is pretty well-behaved relative to older 911s when it comes to snap oversteer, but you still want to get your braking done in a straight line, before you enter the corner. Old 911s are very much "slow in, fast out" cars, with almost nothing capable of leaving a corner like a 911 thanks to its rear weight bias.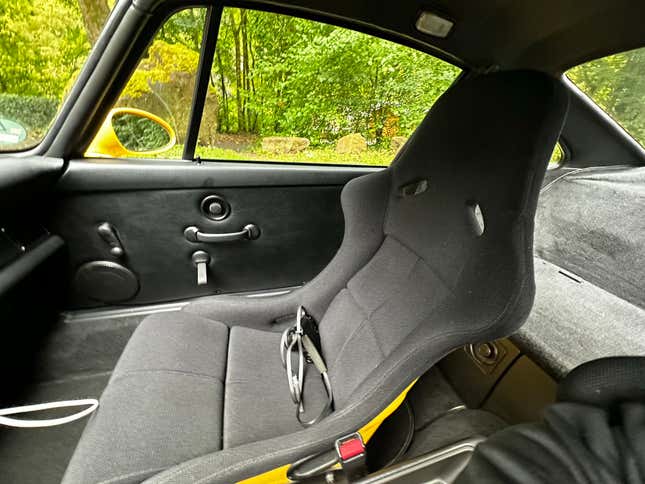 The Coupe Clubsport's small, leather-wrapped sport steering wheel is doing its classic 911 magic trick of wriggling around and talking to me, allowing me to know exactly what the car's front wheels are doing. The car has lightly power-assisted steering, accentuating the feedback rather than dulling it. The steering is also direct and accurate, which, when coupled with the small overall footprint of the 964, means that the car is hyper-easy to place on the road.
The lowered sport suspension is a bit of a surprise to me. Not the kind of old 911 surprise where you find yourself staring back at your own mangled corpse as your spirit floats off into the ether, but the kind where you're expecting a too-firm ride and actually get a perfectly pleasant one. Sure, the car is stiff, but this is a prototype sporty version of an already sporty car, and it doesn't feel like it'd be a spine ruiner after a couple of hours in the driver's seat.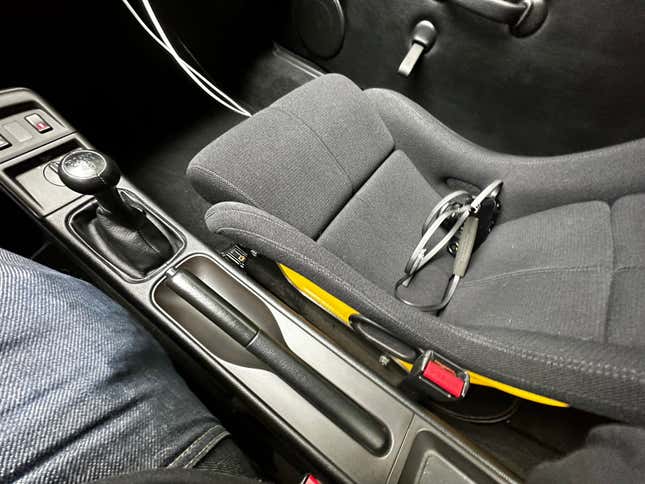 As has been the case since time immemorial, the 964-generation 911's brakes are spectacular. Porsche doesn't fuck up brakes on its sports cars, and this prototype is no exception. The pedal is firm, and the initial bite is decent. The pedal also feels linear, so threshold braking should be easy. I am on a public road, however, and this is a priceless museum car, so naturally, I don't try it myself.
So, all the individual systems of the car are great, but what makes this car (and most 911s) so magical is how they all work together to create a car that just feels willing. Whether that's willing to putt around town, to kiss the rev limiter on the back straight of a race track, or to hustle along a backroad at extralegal speeds, this car would do it happily.
The worst part about the Carrera 2 Club Coupe, ultimately, is the fact that Porsche's bean counters never put it into production. I mean, I get it; by this time, the 964 had just two years left in production before Stuttgart's final air-cooled car debuted. The writing was on the wall, and it's not surprising that this sweetheart of a 911 never saw a dealer showroom, but god, it's going to live on as a benchmark for my 996, and I'm beyond lucky that I've been able to drive it.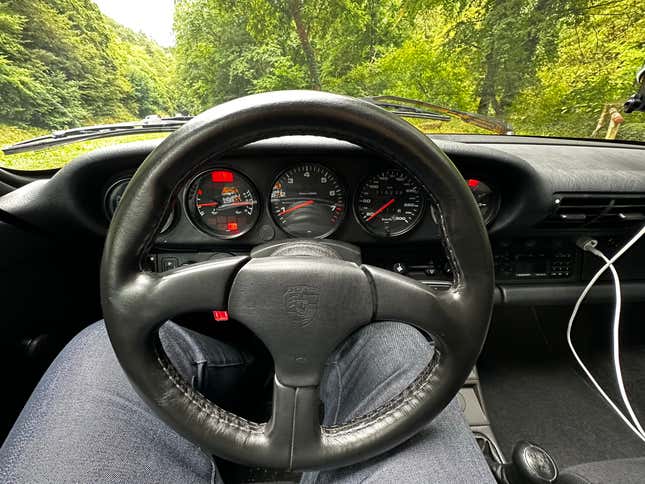 Denial of responsibility!
Todays Chronic is an automatic aggregator of the all world's media. In each content, the hyperlink to the primary source is specified. All trademarks belong to their rightful owners, all materials to their authors. If you are the owner of the content and do not want us to publish your materials, please contact us by email –
todayschronic.com
. The content will be deleted within 24 hours.