Fujifilm has come to dominate the medium format market and for good reason. Combining the ergonomic controls and autofocusing capabilities of its APS-C cameras with the colossal image quality from the 100-megapixel sensor has paid dividends for the company. Although Fujifilm also uses a 50-megapixel sensor, it's the latest sensors in the GFX 100 line of cameras that steal the show.
I never fell in love with the original GFX 100 although there is no denying the quality of the images out of that camera. However, when the GFX 100S came out with a much more compact body design, I really got on board the GFX bandwagon. Regardless, the GFX 100S still felt like a medium-format camera that was designed more for studio work or landscape shots. The brand new $7,499 GFX 100 II seeks to change all that.
Fujifilm GFX 100 II: A Sensor with a Secret
Fujifilm has placed a new 100-megapixel sensor into the GFX 100 II but although some minor changes were made, the sensor is essentially one we've seen before. Fujifilm claimed loudly that this new sensor has twice the readout speed of the older design and this is technically true, but with a major caveat.
You see, having a sensor that reads out twice as fast should provide big benefits to autofocusing performance, video capabilities, and even flash sync speeds. On the GFX 100 II, it seems to largely only unlock the ability to shoot eight frames per second bursts. This is certainly an improvement over the previous five frames per second bursts of its predecessor, but it does this by dropping the bit rate of the images to 12 bit. Unfortunately, the files are still wrapped as 14-bit files and thus take up the same amount of media space as a true 14-bit file.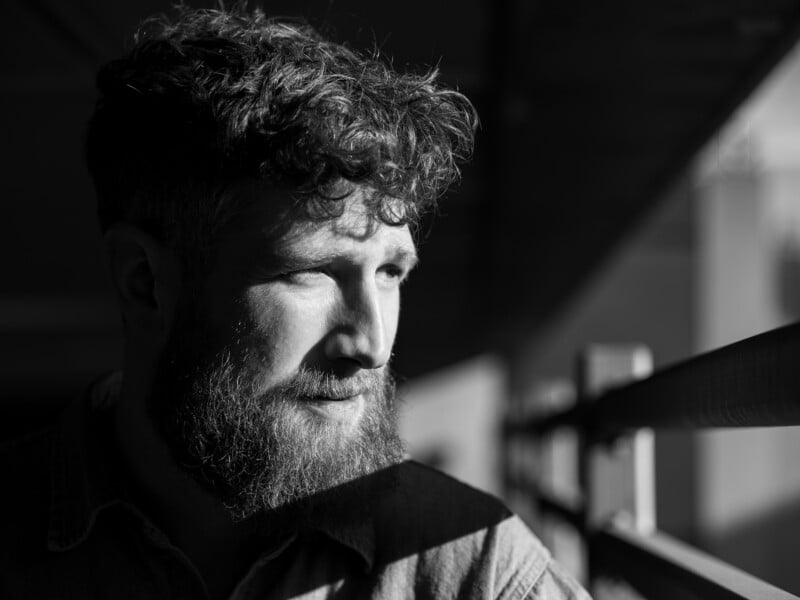 I honestly have no issue with a compromise in dynamic range in order to achieve a faster burst rate for the situations you might need it; 12-bit files are still malleable enough to create good images if you know about the loss ahead of time. I do, however, feel like it's a little disingenuous of Fujifilm not to explain this fact to prospective buyers, but hey, now you know.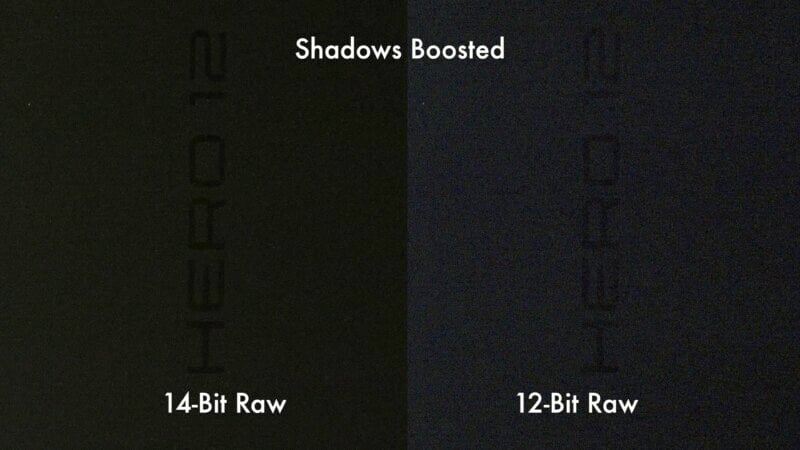 Otherwise, the GFX 100 II delivers the same great 16-bit raw files in single shot mode and 14-bit raw files in any of the other continuous shooting modes. The images look basically identical to what we've seen before but this is a good thing because, for my money, the files out of this sensor are the best you will find right now.
Fujifilm has wonderful film simulation modes — including a brand new Reala profile- which deliver gorgeous jpegs. They also give astoundingly wide dynamic range, allowing you to bring back highlights and push shadows that might otherwise be lost. Images can be cropped dramatically and still deliver plenty of detail for large prints. I don't think the new sensor brings that much to the table, but that's okay because the image quality didn't need improving in the first place.
Fujifilm GFX 100 II: A Beautiful New Body
The brand-new body design and upgrades to the chassis are where I truly feel the GFX 100 II deserves its accolades. The new body is super sexy and delivers a completely modern look while still retaining the essence of what makes Fujifilm cameras so easy to covet. The Bishamon-style rubber housing is very grippy and the camera grip molds to the hand perfectly. At just over 36.5 ounces (1,035 grams) the GFX 100 II feels lightweight and compact enough to take anywhere. We get full HDMI ports, headphone and mic jacks, and a CFexpress Type B slot to go alongside a UHS-II SD slot.
By far, one of the best updates to the GFX 100 II is the new IBIS stabilizer which manages an 8-stop benefit; how Fujifilm did this on such a large sensor is a true achievement. The excellent 3.2 inch, 2.36 million dot LCD panel returns from the previous GFX cameras, but the 9.44 million dot EVF now has no resolution drop at a 60hz refresh rate. You can even choose to drop to a lightly lower .77X magnification factor to get 120hz if you feel you need it to track moving subjects better.
Speaking of tracking moving subjects, another huge upgrade on the GFX 100 II is the inclusion of the new subject detection modes from cameras like the X-H2S. I wouldn't say that the GFX 100 II can track as well as the APS-C cameras can, but that is mostly due to the lenses focusing a bit slower. I found the autofocus to be excellent for most situations and particularly improved when shooting portraits. The occasional eyebrow will be the main subject of the focus instead of the eye occasionally, but those situations are few and far between and the GFX 100 II successfully addresses a complaint many GFX users have lamented for a while now.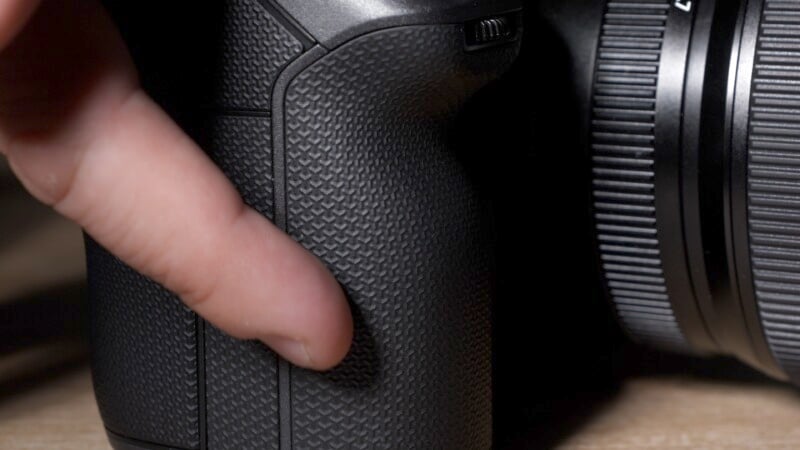 We have the same NP-W235 battery that is ubiquitous amongst the Fujifilm lineup, but we now get an improved 540 CIPA-rated shots on a full charge. I would still carry a spare but I don't think I will need it very often. The new GFX 100 II brings so many substantial upgrades in terms of stability, ergonomics, and autofocus as to completely overshadow the tweaks made to the sensor. In my opinion, this is the real story we should focus on, not the faster burst rate.
Fujifilm GFX 100 II: Impressive Video Specs on Paper
The GFX 100 II ramps up its video abilities in a big way making it the most capable medium format cinema camera so far. The big headline feature is 8K video up to 30p and 4K up to 60p. You can choose your format to as h.264, h.265, and ProRes are all available. There is even the option to shoot anamorphic video with built-in de-squeeze.
Overheating is very well controlled, too, with 4K 60p and 8K 24p modes recording for well over an hour before stopping. Fujifilm has an optional fan unit which, although cumbersome to attach, does allow for even longer record times. The GFX 100 II could be a very flexible cinema camera indeed.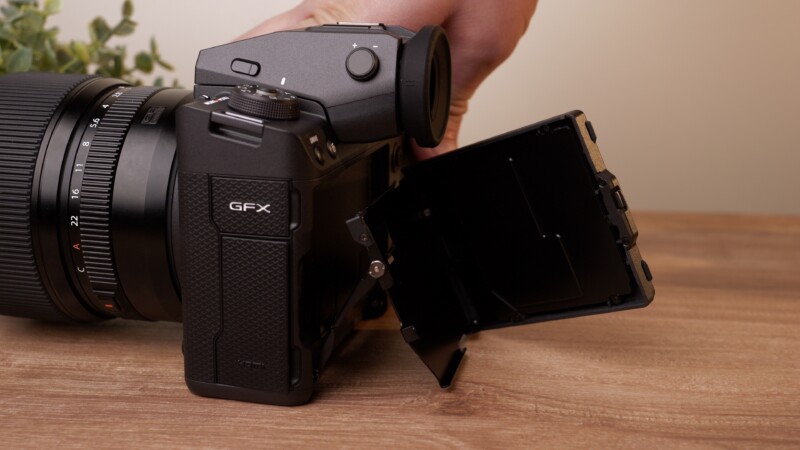 Just like the Fujifilm X-H2S, the GFX 100 II can now record F-Log2 profiles, albeit at a reduced 12-bit depth in video. You will still get excellent dynamic range using F-Log2 but consider that the far more affordable X-H2S will give you F-Log2 in 14-bit modes and thus probably deliver more dynamic range. The GFX 100 II also lets you tap the screen to track subjects effectively and provides a proper waveform-based metering system with a full RGB display so you can see which particular color tones are in danger of clipping.
With all the improvements to the GFX, it sounds like a videographer's delight but unfortunately, there's a catch. Although the video looks pleasant with Eterna and F-Log2 profiles the massive resolution of the sensor isn't ideal for video applications. When shooting 8K video there is a massive 1.5x crop factor which ends up being smaller than a full-frame camera's coverage. Rolling shutter is a real problem, too, due to the relatively slow read-out speed of the GFX 100 II sensor regardless of which high-resolution record mode you use. The 5.8K recording mode does use the full width of the sensor but there is still significant rolling shutter and it gives a very wide 2.35:1 aspect ratio.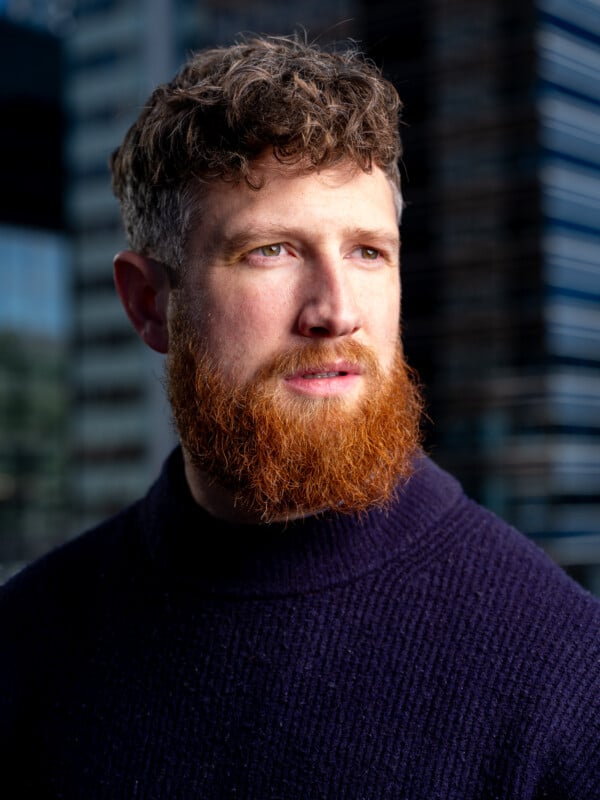 Jumping to 4K recording does let us use the full width of the sensor and the rolling shutter issue is much less of an issue. However, this is accomplished with pixel binning which reduces overall detail and low-light performance too. Regardless, the 4K record modes are probably the most usable out of all the options.
It seems that although the video specs look amazing on paper, they come with a heavy dose of compromise no matter what record mode you use. Fujifilm has added some video features that we have desperately been waiting for and the specs themselves are promising. The real issue is a 100-megapixel sensor which is inherently unsuited to the video requirements outlined in the GFX 100 II. What is a major advantage for still photography is a major hurdle when it comes to video.
Fujifilm GFX 100 II: The Most Versatile Medium Format Camera So Far
The GFX 100 II goes to show that a medium format camera can be molded into a versatile camera that excels beyond the studio walls. Despite the compromises needed to achieve faster burst rates and advanced video capabilities, the GFX 100 II will be more appealing to more types of creators than ever before.
It is a significant upgrade over its predecessors in so many ways and represents good value because of this. It is easily the best autofocusing medium format camera available with incredible handheld stability and video features to boot. Let's not forget that the incredible image quality, although only marginally improved, is still as good as it gets right now.
Are There Alternatives?
The GFX 100S is still an excellent choice with almost identical image quality if you're willing to give up the autofocus and video features of the 100 II. The Hasselblad X2D 100C uses a similar sensor and has a wonderful touchscreen interface, but its autofocus is rudimentary and video capabilities are non-existent.
Should You Buy It?
Yes. The GFX 100 II is the ultimate medium format camera on the market even if it has a few compromises to consider.
Denial of responsibility!
Todays Chronic is an automatic aggregator of the all world's media. In each content, the hyperlink to the primary source is specified. All trademarks belong to their rightful owners, all materials to their authors. If you are the owner of the content and do not want us to publish your materials, please contact us by email –
todayschronic.com
. The content will be deleted within 24 hours.