One of the biggest hurdles facing widespread EV adoption in the U.S. is the issue of charging. Even in big EV-forward cities like Los Angeles and San Francisco, there just aren't enough public charging stations, and the ones that do exist are frequently broken, hobbled by annoying interfaces and glitchy payment systems.
But in many European cities, EV infrastructure is much farther along, as evidenced by a trip I recently took to Paris, France. Street parking in Paris is plentiful, and all throughout the city, curbside parking spots offer EV charging stations from the company Belib, which seems to have the ideal strategy for public charging.
More than 1,200 Belib chargers are already up and running across Paris, with that number set to nearly double over the course of a decade. A rebrand of an existing charging company, Belib is run by oil and gas company Total Energies. Total has pledged to upgrade old equipment and install more fast-charging hubs in underground parking garages in addition to the current curbside network.
The charging stations are equipped with a variety of socket types so just about any EV can plug in, and there are different types of stations that cater to different needs. If you're in a rush, nab a pricier 22-kW Boost charger; if you've got some time, go for a lower-priced Flex charger for 3.7 to 7 kW of juice. There are motorcycle-specific stations that can charge at up to 7 kW, and Belib is starting to introduce more ultra-fast 50-kW charging stations across the city.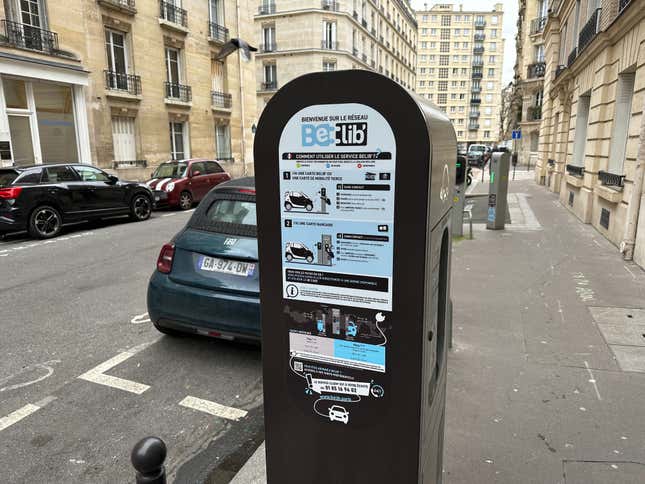 What immediately struck me about Belib's chargers is that, unlike most American charging stations, drivers use their own cables. This essentially eliminates the risk of finding a charging station with a broken cable, the wrong connector, or a cable that won't reach the charge port on your car. Another benefit to the Belib network is that it doesn't require a subscription or a smartphone app for payment (though an optional subscription plan offers drivers a slight discount). Subscribers can book a charging station in advance, and Paris locals also get cheaper charging between 8 pm and 8 am.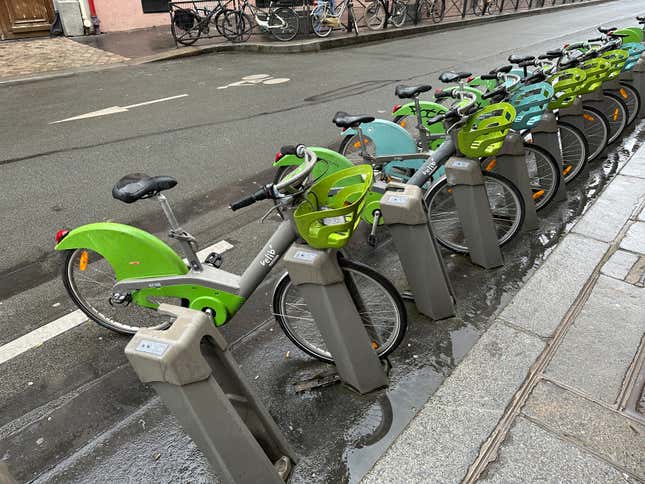 Also located everywhere throughout Paris are bicycles from Vélib, which has been operating since 2007 and is the world's largest bike-sharing company. Vélib has 20,000 bikes in the Paris metropolitan area; at least 40 percent are e-bikes, and Vélib says these account for more than half of all miles traveled by customers There are 1,400 docking and charging stations — meaning, on average, you'll encounter one every 300 meters — and the docking locations are chosen by the local government for optimal accessibility and space usage.
The bikes themselves are pretty modern, with nice seats, a front basket, headlights, a kickstand and a PIN-activated lock so you can park the bike without docking and re-activating as you run errands.
The Vélib network can be accessed without a subscription, with users paying by the minute or purchasing tickets for single or multiple rides. Paris residents can buy a monthly subscriptions; the most expensive, at roughly $9 a month, gives you unlimited rides of up to 60 minutes along with other benefits. The Vélib bikes were a constant sight throughout my week in Paris, and the network offers a great way to augment Paris' extensive and excellent Metro system.
EVs made up 13.3 percent of all new car sales in France in 2022, while plug-in hybrids came in at 8.3 percent of the total market share; 25 percent of all new-car registrations in France in December 2022 had some sort of plug. In the US, EVs made up just 5.8 percent of all new-car sales in 2022, with the vast majority being sold in California. Paris also utilizes hundreds of electric buses, as well as electric garbage trucks, street sweepers, mail vans and more. In fact, EVs are so common that hearing the sound of an internal-combustion engine and smelling exhaust fumes as I walked around was actually jarring, it happened so infrequently. The EU is working to ban the sale of new internal combustion cars by 2035, but Paris is set to completely ban all gas and diesel vehicles from even entering the city by 2030. To achieve this, the French government is investing billions of Euro in EV production and infrastructure improvements, with a goal to produce 2 million EVs in France by 2030.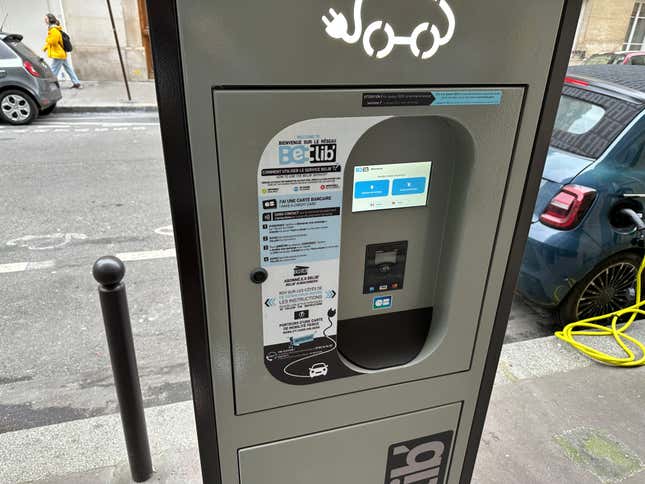 Obviously, the charging and infrastructure solutions that are being implemented in Europe can't just be transplanted to the U.S. Our roads, our city layouts, our cars and our power grid all differ significantly from what's typical in France. The U.S. is also moving more slowly when it comes to bans on new internal-combustion vehicles, leaving it up to each state to make its own decisions.
We're getting there, though. Recently, the Biden administration further outlined its plans for a much-needed massive expansion of public charging infrastructure in the U.S., a $7.5-billion investment with the goal to have 500,000 chargers up and running by 2030. Part of those funds will go towards a public network of fast-chargers along 75,000 miles of the interstate highway system across all 50 states, which would be a big deal on its own, but the details that are crucial. The chargers will all share a common plug type and charging speed, with location and availability easily accessibly by smartphone, and the project is targeting consistent reliability with a goal of 97-percent uptime. You won't have to use a different app or payment method for each charging location, and charging equipment is required to be built in the U.S. Tesla is also opening up its Supercharger network for the first time, with at least 7,500 chargers becoming available for non-Tesla EVs by the end of 2024.
An easy-to-use, reliable, plentiful fast-charger network across the country will be a massive help in encouraging more drivers to go electric. Hopefully that same amount of effort and attention will be paid to how our cities will evolve, too.
Denial of responsibility!
Todays Chronic is an automatic aggregator of the all world's media. In each content, the hyperlink to the primary source is specified. All trademarks belong to their rightful owners, all materials to their authors. If you are the owner of the content and do not want us to publish your materials, please contact us by email –
todayschronic.com
. The content will be deleted within 24 hours.