Taking 'orders from top' to 'defame' Rahul, says Congress as Delhi cops land up at Gandhi's home yet again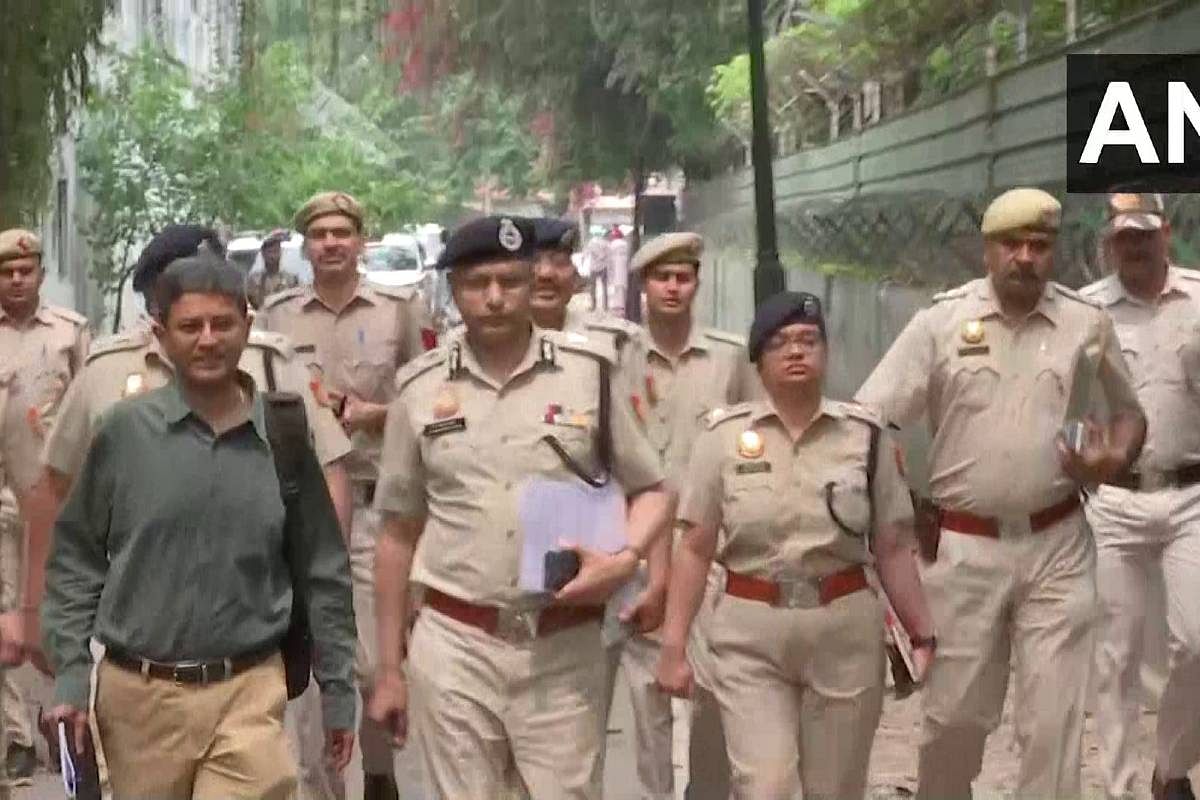 New Delhi: The Congress Sunday accused the Delhi Police of operating outside their jurisdiction and taking "orders from the top" to "defame" party leader Rahul Gandhi.
On Sunday morning, a team of the Delhi Police, led by Special Commissioner of Police (Law and Order), Sagar Preet Hooda, landed at Gandhi's 12, Tughlak Lane, home to follow up on a notice served to him Thursday, seeking information on the sexual harassment victims that he mentioned in his speech during the Bharat Jodo Yatra in Kashmir this January.
According to the Congress, the notice contained a two-page questionnaire seeking the details of women who had complained of molestation, domestic violence and sexual abuse while speaking to Gandhi during the four-month long Bharat Jodo Yatra that concluded in January.
Speaking to the press at the Congress headquarters in the capital Sunday, Congress MP and lawyer Abhishek Manu Singhvi said that since specific details needed to be collated from a 4,000-km-long march, the police team was told Thursday that Gandhi would take 10 days to furnish the same.
"On 16th, the police team which came was told — and they went back satisfied — that such large amount of details required will take a minimum of 7-10 days (to be furnished). There was no protest (at) that time. Today, therefore, we were surprised that the same police team with some additional personnel landed again (at Gandhi's house) with similar questions," Singhvi told reporters.
He further stated that the police's questions related to a speech Gandhi made in Jammu & Kashmir on 30 January and to other incidents and statements made outside Delhi.
Singhvi asked why the Delhi Police, under whose jurisdiction the cases don't fall, was serving a notice in these matters. He also asked if any other political movement or event in the country had been subject to such questioning.
"As we all know, such campaigns (like the Bharat Jodo Yatra) involve a diverse cross-section of people who join the campaign on an ad-hoc basis and air diverse grievances of all kinds. The grievances are listened to with sympathy and where possible, passed on to those walking along, or they (the complainants) are advised to take appropriate action. I don't think any political leader in a campaign is expected to stop instantly and seek recourse to law on the basis of the several interactions and complaints made to him during the campaign," Singhvi asserted.
"This (the police notice) is unprecedented, unheard of and smacks of the worst kind of pettiness. This is politics of revenge and intimidation," he added.
The Delhi Police, on the other hand, said they were trying to get "justice" for the victims who spoke to Gandhi.
Talking to the media, Special Commissioner of Police Hooda said Sunday: "We've come here to talk to him. Rahul Gandhi gave a statement in Srinagar on January 30, saying that during the yatra he met several women and they told him that they had been raped. We're trying to get details from him so that justice can be given to the victims."
#WATCH | Special CP(L&O) Dr Sagar Preet Hooda says he along with his team met Congress MP Rahul Gandhi at his Delhi residence today & urged him to provide information on the 'sexual harassment' victims whom he mentioned in his speech during the Bharat Jodo Yatra pic.twitter.com/k9Bd2pmQij

— ANI (@ANI) March 19, 2023
He added, "It is important for us to know whether there was any woman of Delhi who conveyed her message to Rahul Gandhi. This is a serious matter. There might be a possibility of the involvement of minors also."
"Till now, no information has been given to us by Rahul Gandhi. We have urged him to provide information as soon as possible," he told the media.
---
Also Read: Rahul not 1st neta whose remarks abroad sparked row back home. There's Indira, Morarji & even Modi
---
'Distracting attention from Adani scam'
Rajasthan CM Ashok Gehlot, who was also at the Congress press meet Sunday, said that the action by the Delhi Police would not have been possible without "orders from the top".
"When no complaint or FIR has been filed, what is the police sending a notice (to Gandhi) for? Usually, at least a zero FIR is filed in another state before the police of another (territory) steps in. In this case, even that was not done," Gehlot alleged.
Congress MP and party general secretary Jairam Ramesh called the police action an attempt by the ruling government (BJP-led central government under whose ambit the Delhi Police functions) to distract attention from the (Hindenburg Research) allegations against the Adani Group.
"They are doing this so that the attention of the country and Parliament can be taken away from the Adani scam," Ramesh alleged at the press meet.
"Since 16 opposition parties have asked for a joint parliamentary committee (probe into Adani case), since Rahul ji spoke for about 50 minutes on the Adani scam in the Lok Sabha, various tactics are being used to defame him," he added.
(Edited by Nida Fatima Siddiqui)
---
Also read: 'Defamatory remarks on Nehru family' — Congress calls for privilege proceedings against Modi in RS
---
Denial of responsibility!
Todays Chronic is an automatic aggregator of the all world's media. In each content, the hyperlink to the primary source is specified. All trademarks belong to their rightful owners, all materials to their authors. If you are the owner of the content and do not want us to publish your materials, please contact us by email –
todayschronic.com
. The content will be deleted within 24 hours.