A car that redeems itself at the last possible moment can really pull at your heartstrings. You'll wonder why the car wasn't this great all along — maybe if it had been, it wouldn't be going away. For me, that car is the Acura NSX Type S. It's so good it makes me forgive the standard NSX's prior wrongs.
Disclaimer: Honda offered to let me drive the NSX on a whim. It caught me off guard since the NSX is essentially out of production at this point, but how could I turn down an opportunity like this?
I have to admit, I wasn't hyped about the NSX initially. When the car was relaunched and made its debut in 2015, it was so far removed from Acura's original supercar that it really felt like an NSX in name only. Sure, it had a mid-engine layout, but it seemed to have too much going on with the hybrid tech and all-wheel-drive system. It all added complexity and weight, to the tune of nearly 4,000 pounds.
What I didn't realize at the time was that this was the original NSX formula, just with a tie to the future. Here was a supercar that you could genuinely live with every day, getting decent gas mileage while doing so.
Still, the NSX's performance left many wanting more, and as the years went on, it looked as if this supercar's luster was wearing off. Sales weren't looking too good either and despite a minor update in 2019, official word came that the NSX would go away. Not without a proper sendoff, however.
G/O Media may get a commission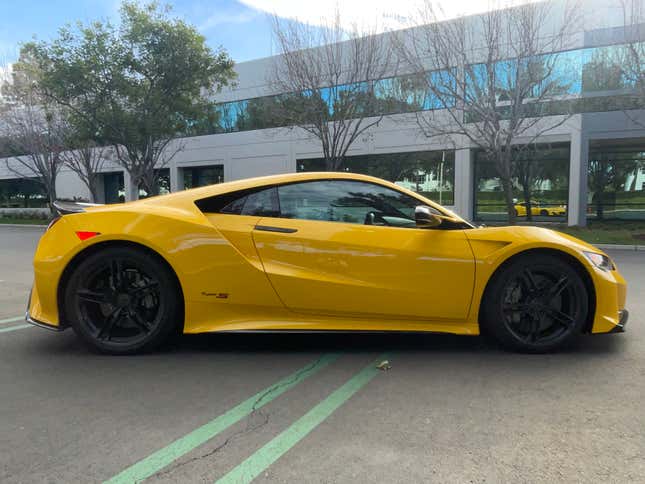 Acura's swan song was the NSX Type S, the car Acura should've built all along. The automaker took lessons learned on the track with the NSX GT3 race car and applied them to the road car. Turbochargers lifted directly from the GT3, better intercoolers and bigger injectors resulted in an increase of 27 hp and 16 lb-ft of torque over the regular NSX, for a final output of 600 hp and 492 lb-ft.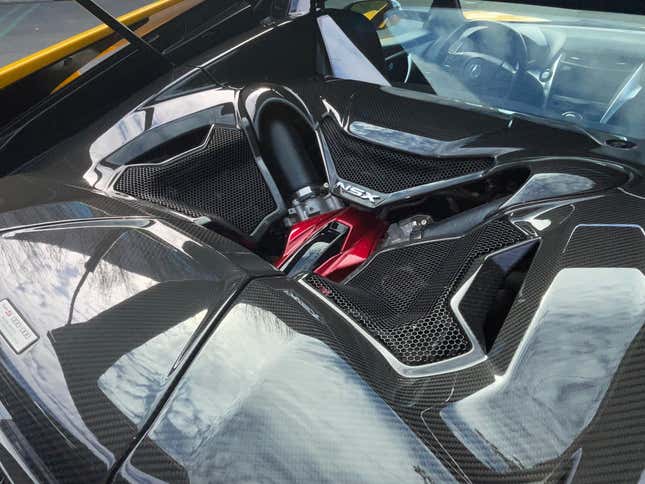 Acura estimates a 0-to-60-mph time of less than 3 seconds, and I believe it. Even in its tamest drive modes, the NSX Type S is quick.
The NSX comes with four driving modes, accessed through a huge knob on the center console. The default setting for the Type S is Sport, which offers a nice balance of efficiency and performance. Quiet mode is directly under Sport and softens the engine and throttle response, engaging the hybrid's pure EV mode more often. Sport Plus, meanwhile, sits above Sport and livens things up a bit with improved throttle response and a louder exhaust note. In Track mode, which is activated by holding the Dynamic knob to the right for a few seconds, the gauges and screens turn red and things get serious.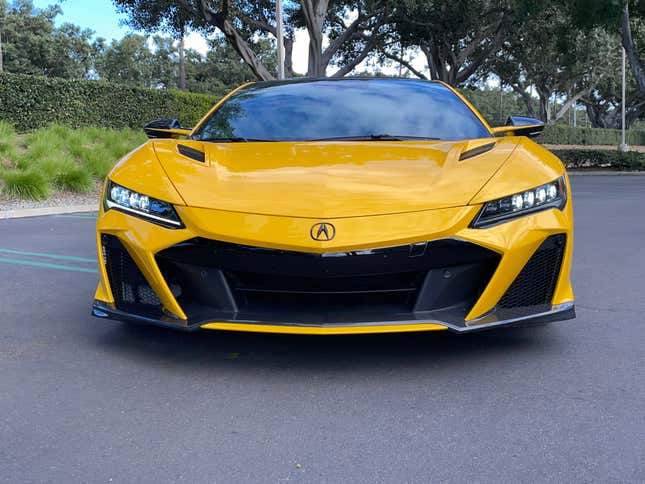 Launching the NSX Type S in track mode is surreal. It's like engaging warp drive or something. Track mode readies the NSX Type S for track duty. The vehicle stability assist is disabled, the hybrid battery's charge is maintained for uninterrupted power, and if you find yourself using the air conditioning while in this mode, it may not be as cool; the A/C is weakened in track mode to prioritize cooling of the hybrid battery. Once you're underway, the nine-speed automatic transmission shifts quickly, holding revs to redline when you use manual mode. All the while, the engine sounds glorious during hard driving. Acura engineers made it a point to have the "pure sound" of the engine creep into the cabin. You can even hear the woosh of the turbochargers every time you hit the throttle, which I love.
In case you missed it:
The Type S is about much more than straight line speed, however. Throw it into a turn and the NSX grips like a magnet. Cornering is flat and planted, and there's a level of stability that makes it seem as if the NSX hunkers down mid-turn. It inspires confidence and makes fast drives on public roads a thrill, even when you know you aren't close to the limit of this car's performance.
What's even more amazing is the efficiency you get. The NSX's hybrid setup – consisting of a 47-hp front motor, 72-hp rear motor, 1.3-kWh lithium-ion battery and a 3.5-liter twin-turbo V6 – helps it achieve pretty good gas mileage, all things considered. I was able to squeeze out nearly 21 mpg on the freeway and commonly saw around 18 mpg in mixed driving. Compared to cars like the Audi R8 and Nissan GT-R which both get 15 to 18 mpg combined, the NSX is nearly a fuel miser.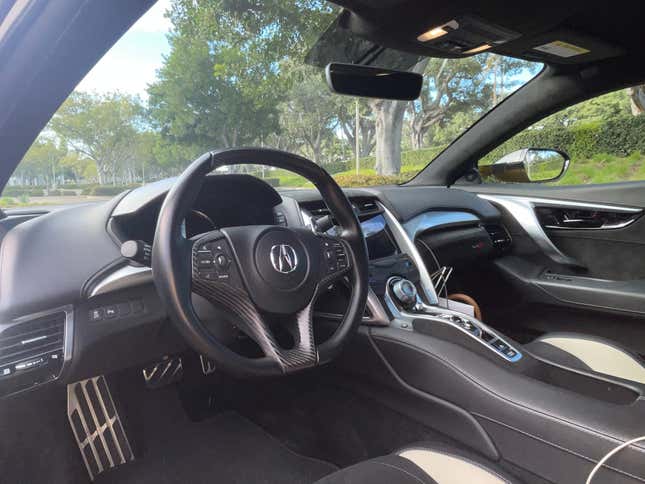 The downside to the NSX? The interior. While the materials and their quality are good, the overall execution is less so. The dash is cluttered and the infotainment system's graphics are extremely old. But all that is minutiae — not to mention irrelevant now, since the NSX is officially out of production.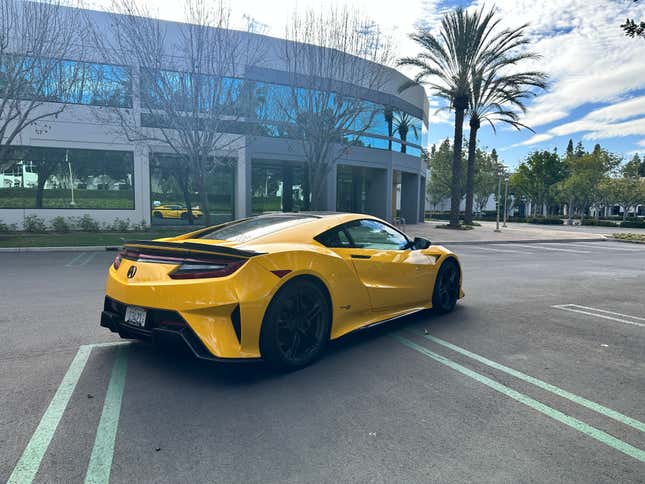 Whether or not Acura is working on another NSX, I think I'll remember this one the most. It showed enthusiasts the future of things to come by marrying hybrid tech with turbocharged gas-fed performance, wrapped in a package that you could actually live with on a daily basis. With just 350 sold in the US, I consider myself among the lucky few to have experienced the NSX Type S on its way out. Sure, it could have been this good from the beginning, but then saying goodbye wouldn't have been this great.
2022 Acura NSX Type S Coupe Specs
Price starting at
$157,211
Engine type
Twin Turbo Gas/Electric V-6
Transmission/Drive
Auto-Shift Manual w/OD
Denial of responsibility!
Todays Chronic is an automatic aggregator of the all world's media. In each content, the hyperlink to the primary source is specified. All trademarks belong to their rightful owners, all materials to their authors. If you are the owner of the content and do not want us to publish your materials, please contact us by email –
todayschronic.com
. The content will be deleted within 24 hours.